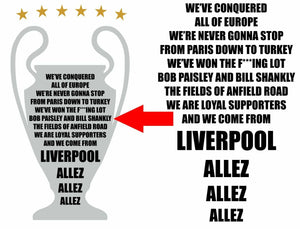 Allez, Allez, Allez… the chant is not unknown for Liverpool fans as it's part of the soundtrack of Liverpool's incredible march to the Champions League Final. Fans of Liverpool can express their joy with this decal that consists of the popular chant scribbled beside the 6 golden stars within the European cup to symbolize the 6 wins of the European Cup Champions League trophy. The high-quality wall art decal is available in 3 sizes and can be placed on any smooth surface.
This is decal the "Allez Allez Allez" song or chant in the European Cup, with 6 golden stars above, representing the 6 wins of the European Cup Champions League trophy.
It can be stuck to pretty much any wall in your house as long as it is a smooth surface. It can be stuck on a window too.
As long as the surface is smooth, clean and dry when you attempt to stick it to anything, it will stick. It is best not to try to stick it to a rough surface like brick, chipboard paper etc as it would start to peel.

It is cut from a high grade vinyl so the wall colour will be the backing colour. The decal is waterproof as the vinyl just wipes down. It will stay where you stick it until you are ready to peel it off (as long as above comments are followed).
It would look great anywhere in the house, it is a matter of where you want to put it.
 .
You can buy 3 different sizes. But please do look at the sizes. The smallest one, 150mm high, is 6 inches high, so not large. The 300mm one is approx as high as an A4 page. Then, there's a large 1 metre high one.
A staff member put one of these on an office window in our premises, so no better way to show you how to put it up, than a video. As this video below is on this listing, there will be no need for instructions to be put in the package. Obviously, if you buy the poster version, there are no instructions needed on how to put a poster on a wall. Here's the video of Jamie putting the decal up, using a "hinge" method. If you fancy using a different way, totally up to you: