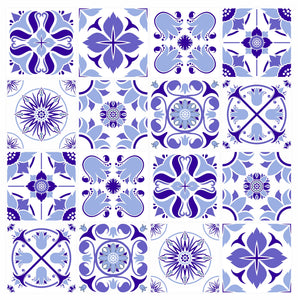 These tiles feature gorgeous yet calming shades of blue to make any space transform into a fabulously fashionable yet functional space. This set of mosaic tile stickers are waterproof and heatproof. Not only are they easy to install and remove, but they're also easy to clean and maintain as they provide a long-lasting sheen.
This collection has 16 patterns—you have the choice to choose from 2 of each, all 16 of the same patterns, or mix and match.
Change the look of your wall tiles, without paying hundreds for replacement tiles
These stickers will transform how your tiles look.
They are easily put on and will not fade or damage if they get wet
You can wipe them down and clean them with most of the usual cleaning fluids, including bleach, without damage. They will not fade in sunlight.
They will last for years, but can be removed without leaving a mess.
Best used on smooth tiles / surfaces, to prevent air bubbles.
They are fine up to 105 degrees centigrade.
There's 16 stickers in the pack, that's 2 of each pattern
Below, you can see how easy it is to put our stickers onto tiles: