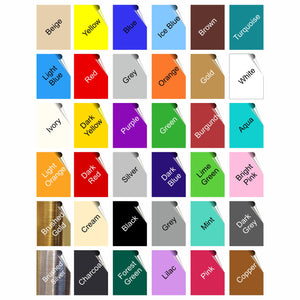 These matt tile stickers are available in a pack of 10, 25, or 50 tile stickers that exude a cohesive aesthetic that makes the space appear larger and intriguing. They're perfect for homeowners who prefer minimalist colour palettes but still appreciate a little personality shining through modern, mesmerizing designs that don't feel overpowering or chaotic.  
Change the look of your wall tiles, without paying hundreds for replacement tiles
These stickers will transform how your tiles look. They are easily put on and will not fade or damage if they get wet. In the picture, you will see what a change they made when I put some on the tiles in my works kitchen, the tiles look totally different.
There's a pack of 10, a pack of 25 or a pack of 50.  Just choose the colour you want from the options.
The picture is just an example of how to use them, use your own initiative, you may well come up with something more eye-catching. They fit tiles that are 100mm or 4 Inches square. I make everything myself, so can make all sizes (costs will be different), feel free to ask
*White blackout guarantees that no colour or pattern colours will show through. It is not a brilliant white.
Below, you can view a video.
The stickers are printed pattern ones, but all stickers are made of the same material, so are put on in the same way. 
This method is known as the "wet" way.
You will also receive a paper instructions in your packet, showing the "dry" way.
Here's the video: