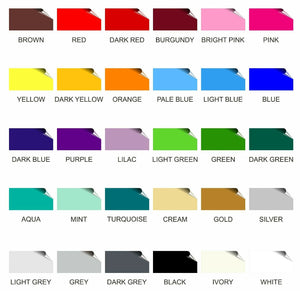 This pack of gloss tile stickers makes a style statement that will make any space stand out! You can get this pack to make your kitchen or bathroom elegant and refined while maintaining the crispness and aura of the space. Just choose any colour you desire and get rid of unwanted patterns replacing them with easy-to-install and remove sticker transfers. You can opt for a pack of 24 or 48 gloss tile stickers.
*White blackout guarantees that no colour or pattern colours will show through. It is not a brilliant white.
Below, you can view a video.
The stickers are printed pattern ones, but all stickers are made of the same material, so are put on in the same way. 
This method is known as the "wet" way
You will also receive a paper instructions in your packet, showing the "dry" way.
Here's the video: